BLOGS, DOWNLOADS & CONFERENCES
RESOURCES
Find resources and download content. Access our most recent blog publications regarding chemicals topics and trends including ESG investing, Climate Change, Carbon Capture, Recycling, New Energy, Sustainability, Commodities and more…
View Downloads
View Blogs
Industry Resources: Free Downloads
Industry Blogs: Current Topics & Trends
Plastic Waste Challenges Revisited
Thu, 11 Mar 2021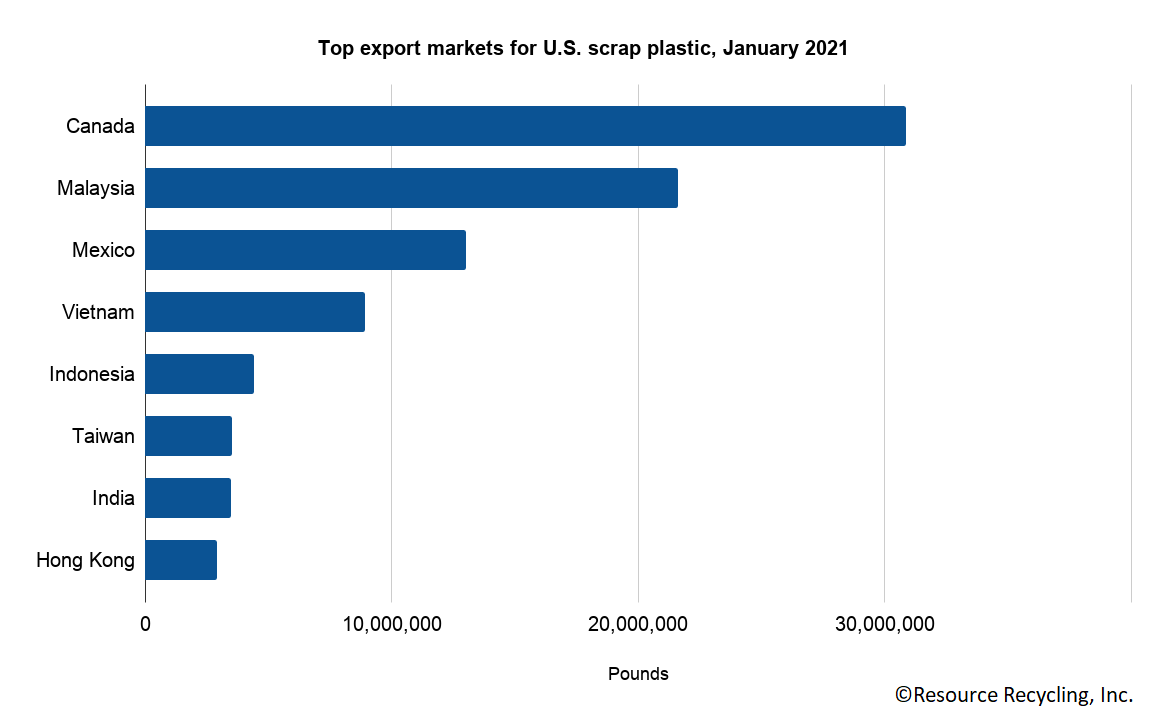 We are back on plastic waste today, following the IHS World Petrochemical Conference post that collaboration is key to evolving the circular plastics economy, reminding us what the largest challenge is regarding creating a circular plastics economy. Our work on trying to find a waste solution for a specific source material that we have discussed in prior reports has shown us firsthand...
,
CONTINUE READING
New Bottlenecks in Recycling
Tue, 9 Mar 2021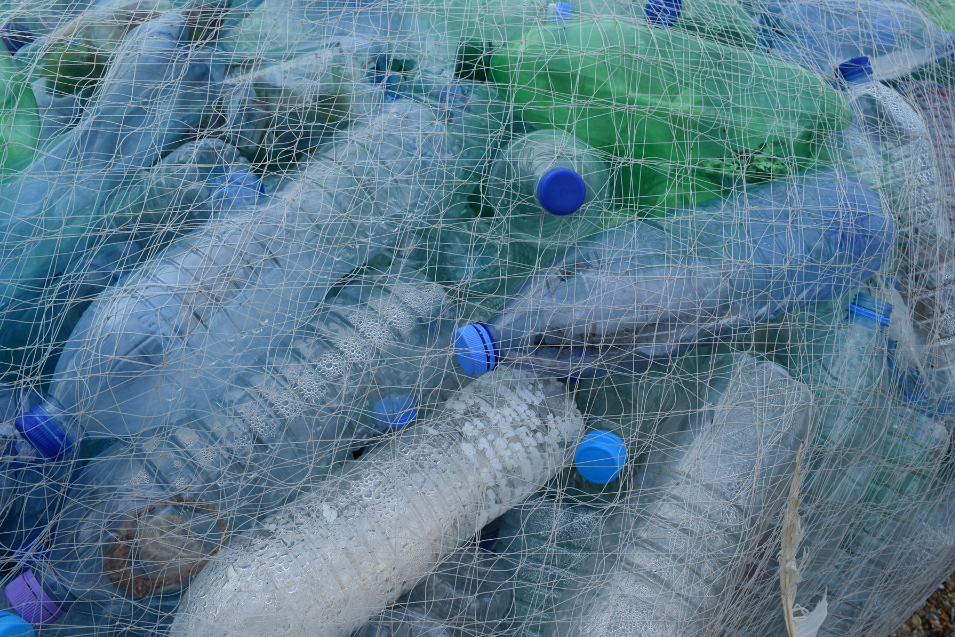 Today we focus on recycling and the news that a significant recycler of PET (CarbonLite) has filed for Chapter 11 protection. This is another indication that there is not much money to be made in recycling and it is a little shocking given that the company was focused on PET, which has some of the better recycling rates in the country. The company blames...
CONTINUE READING
ESG Reporting and Analysis is Ready for an Overhaul
Wed, 10 Mar 2021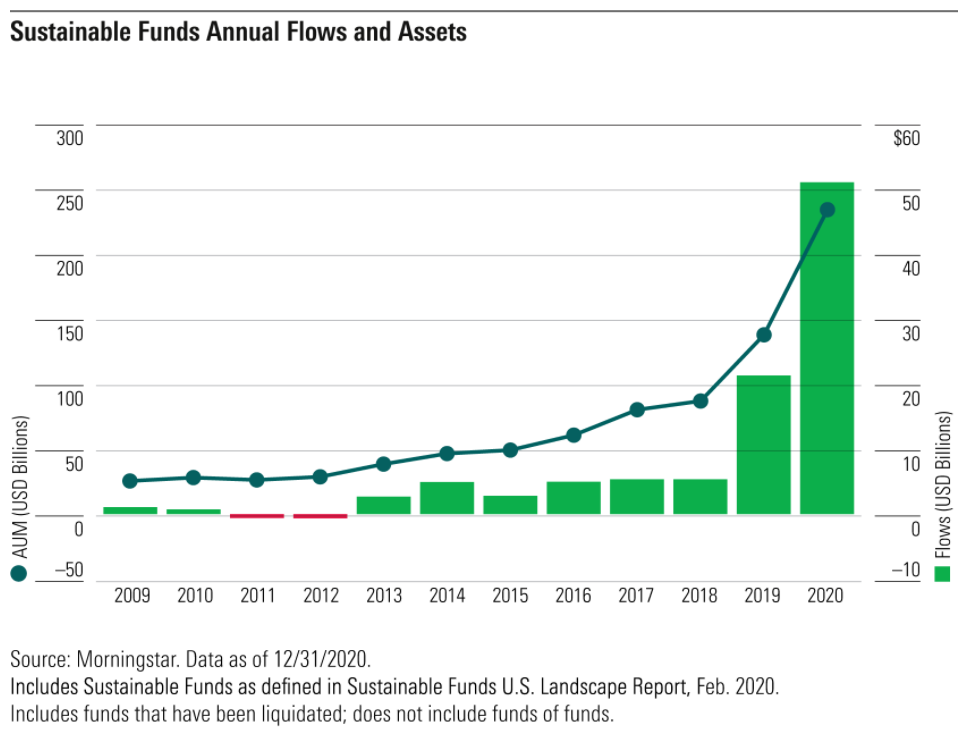 There is a lot of ESG and Climate news today, including many comments on recycling – we would encourage you to read the ESG and Climate report linked (Trash or Treasure…), which talked about recycling in detail...
CONTINUE READING
A US Carbon Tax – How Aligned Would the API be with Something That Worked
Mon, 08 Mar 2021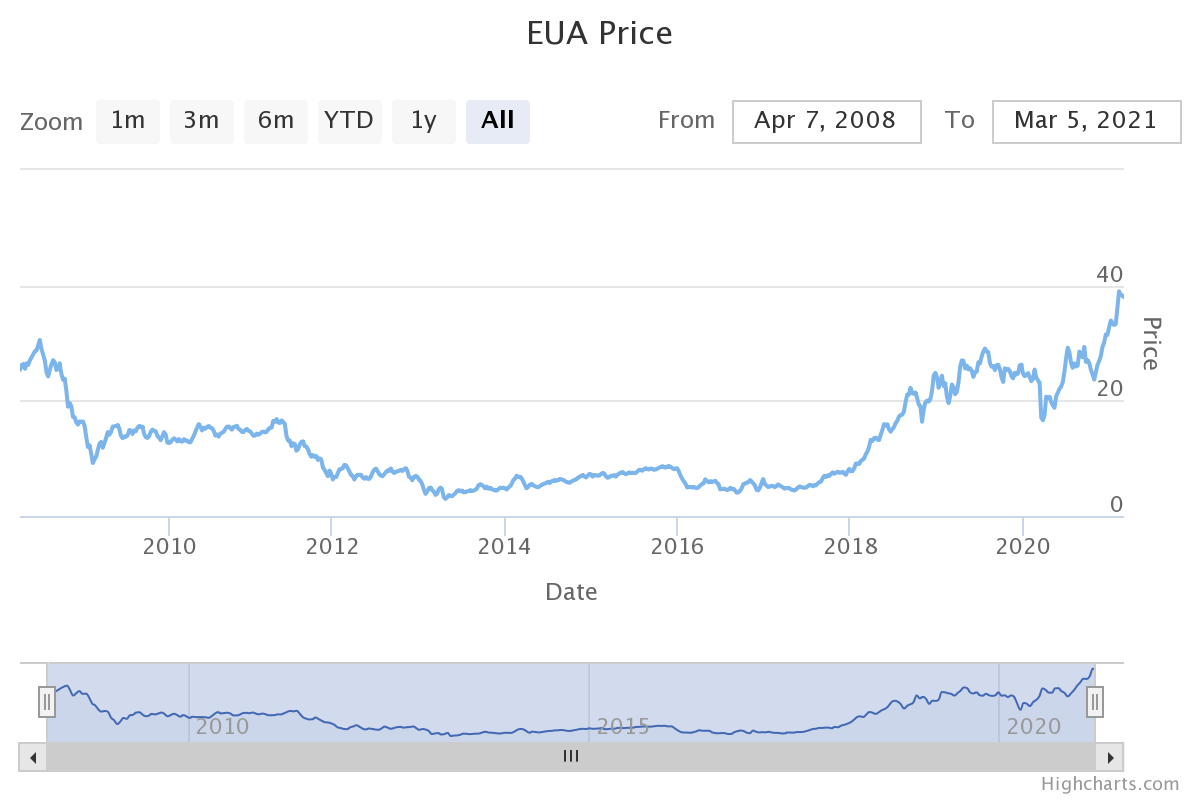 The API is suggesting that it would support a carbon tax in the US, but at the same time is suggesting that this would only be supported if it was the only mechanism that regulators used at a Federal level. While both Europe and California have carbon taxes, they have many other regulations and mechanisms to help lower emissions, such as credits for EV use and LCSF in California...
CONTINUE READING
The Swings and Roundabouts of Commodity Pricing
Thu, 11 Mar 2021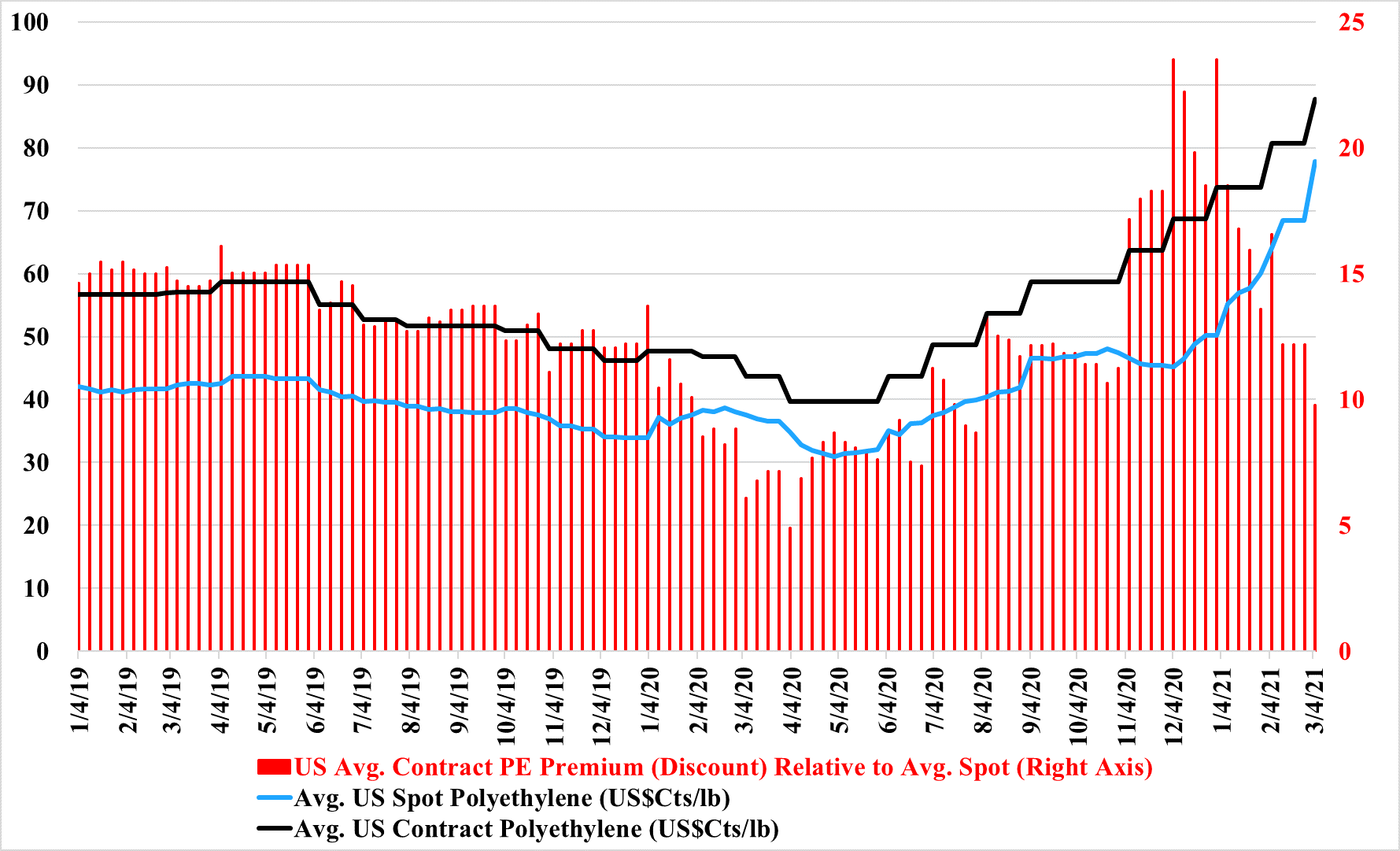 Today we had earnings reports from both Braskem and Lanxess. It is hard to fault either company for the tones and expectations lined out in today's report. This is an industry where forecasting is generally problematic as there are too many potential influences that are not only outside the control of the companies themselves, but also prone to surprise movements regularly...
CONTINUE READING
PVC: A Less Volatile But Longer Term Polymer
Tue, 9 Mar 2021

One of the striking conclusions from our Weekly yesterday (charts 41-43) was the steady upward march in PVC pricing in all regions – everywhere is at 5-year highs, the US, Europe, and Asia.   While it is very easy to be distracted by the spikes in polyethylene and polypropylene pricing, we believe that these price rises are far more impacted by the spike in consumer durable spending, production outages, and global supply dislocations than PVC...
CONTINUE READING
A Perfect Storm for Pricing and Profits
Wed, 10 Mar 2021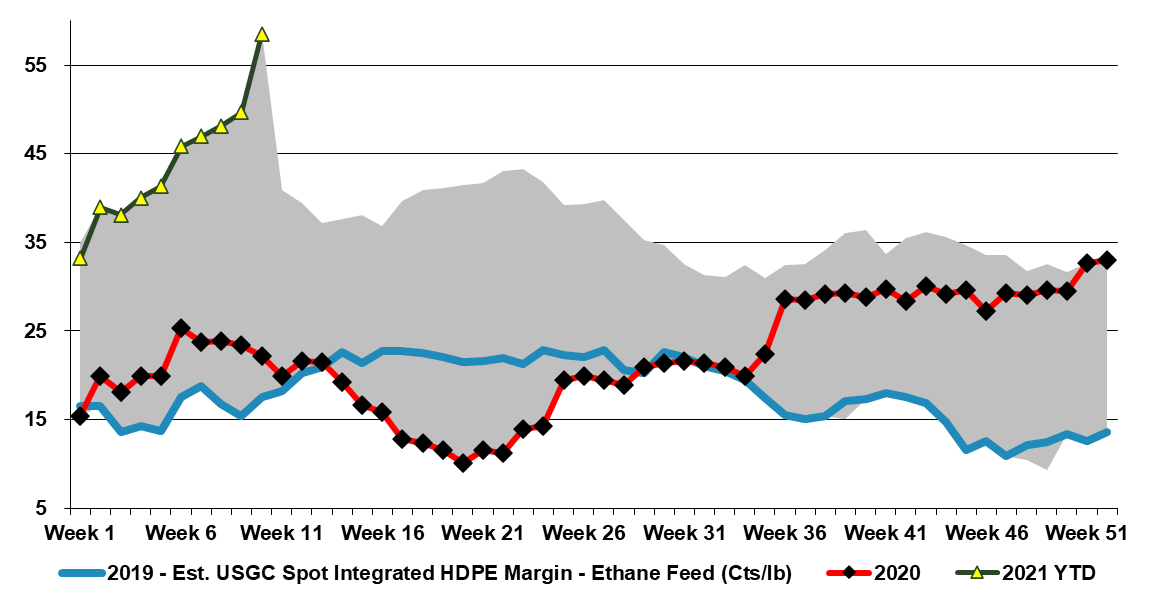 We are experiencing a perfect storm for chemical pricing. The supply chain dislocations are causing buyers right down the chain to think about both supply routes and how much inventory they should hold (we would expect a general working capital increase across manufacturing and possibly retailing over the next 6 months – price and volume-driven). The risk of...
CONTINUE READING
Higher Crude Prices: Raise Interest in LNG and Help US Chemicals
Fri, 05 Mar 2021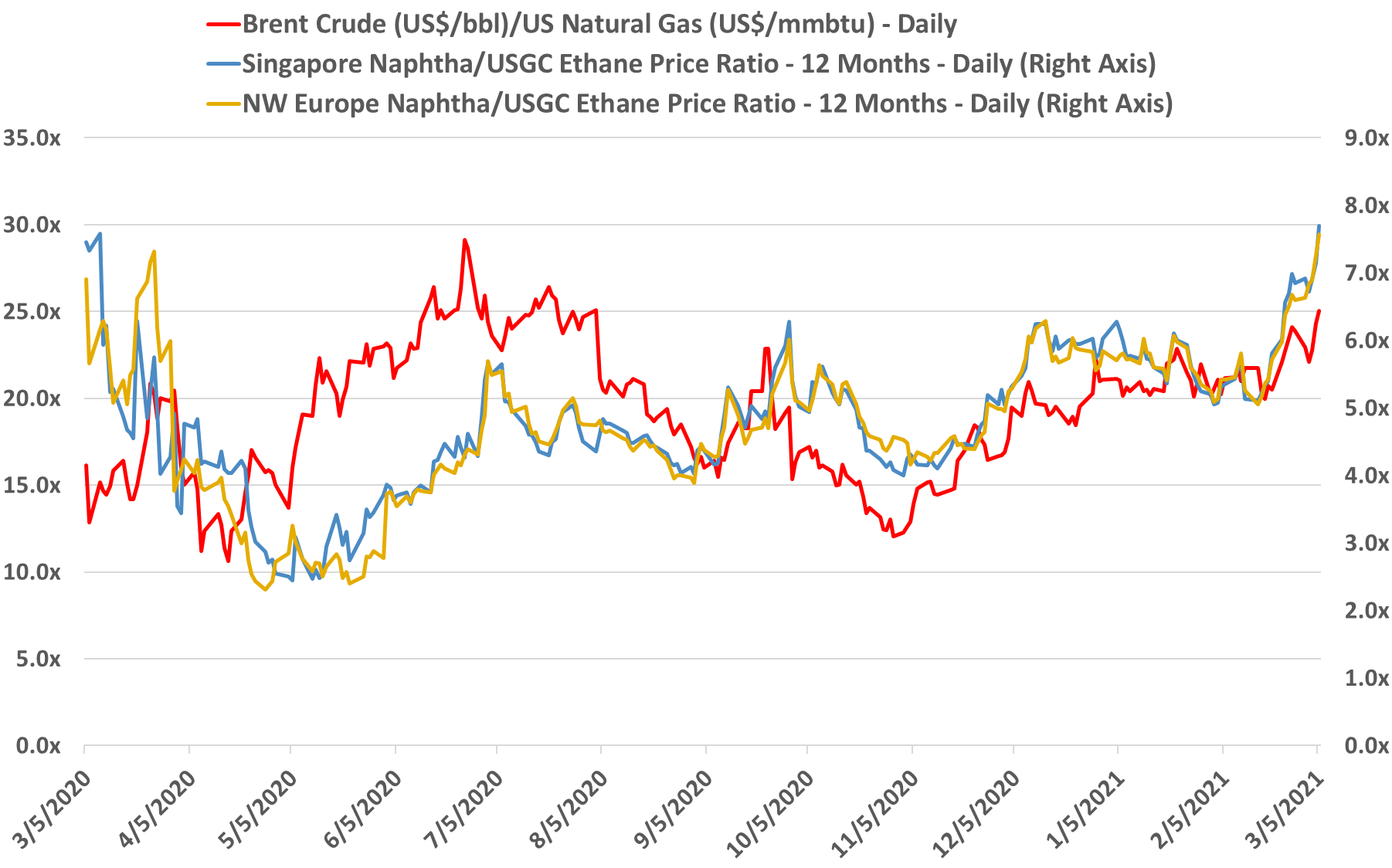 As we anticipated (and have covered at length in our ESG and Climate service), we see a renewed increase in adding more US LNG capacity as global markets tighten again and as more emerging economies see LNG as a cleaner and potentially cheaper path to broader electrification. There is also talk of changing contract structures to share the pains and gains of LNG price volatility. This would be good for...
CONTINUE READING
Industry Events: Conferences and More
Resources
Conferences
Learn from Industry Experts at Events Organized by C-MACC
We will be hosting an "update" conference call with Alex Sokolowski from the BASF Investor Relations Team. Date - May 12thTime - 11:00am ECT REGISTER NOW
 We will be hosting an "update" conference call with the Dow Investor Relations team. Date - Postponed Because of Timing Conflicts A New Date Will Be Posted Shortly
Some of you will know Raj from his days as CEO of Rohm and Haas, but since then Raj has served on many boards including HP and Tyco. He is currently the Lead Director of Arconic and a Board Director of DuPont. He is Chairman of both APTIV PLC and...
Graham Copley
Founder
Graham has spent 40 years in and around the chemical sector and associated industries, and his depth of experience and breadth of industry and geographic experience qualifies him for a wide spectrum of consulting and other advisory roles.
Cooley May
Founder
Cooley most recently served as Managing Director and Sector Head of US Basic Materials and Industrials Equity Research at Macquarie while he also worked as a senior analyst directly covering the chemical and agriculture sectors.